Gallery
You will see in our gallery photos of our academy.
Message From Our Leadership
Welcome to Bright Future Learning Academy!
Bright Future Learning Academy ( BFLA) is born out of years of hearing from our patients' parents the difficulties they face with childcare. We faced these same struggles to balance our careers and find childcare and preschool that has convenient hours and is clean, safe and nurturing. After all, we understand that as parents, we want the best for our children and BFLA is that center.
At BFLA, our priority is your priority; your child. From the moment you walk into BFLA, you will be welcomed by our warm inviting staff and feel secure knowing that you are leaving your child(ren) with compassionate, competent and nurturing professionals. Our director,  Mary Rebe, and all the staff have years of experience and are passionate about caring for children and their early development. 
Home is where the heart is!  We have been a part of this community for almost four decades: from kindergarten to high school, from residency to the establishment of our pediatric medical practice at Woodland Park Pediatrics. 
We believe in providing the best care possible and serving the community in which we grew up. Thus far, you have trusted us with your children's medical needs. At BFLA, we are fortunate to be able to provide similar level of service in support of your child's academic and social development.
Welcome to the BFLA family.
Sincerely,
Drs. Nadia and Mannan Razzak
Parent Resources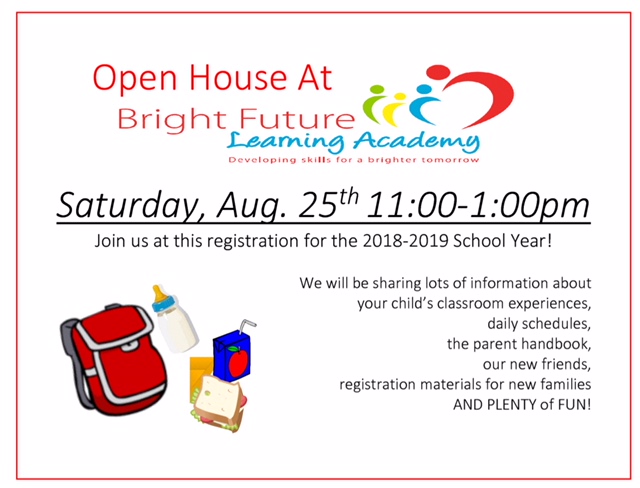 Registration Form For Enrollment
We provide four classrooms with twelve to eighteen children each aged six weeks to six years of age.
Infant
We understand that your new bundle of joy is the center of your world, and we will treat them as such. Children's senses will be stimulated through activities, music, and themed lessons. Our well trained and caring staff will work with parents to meticulously plan your child's day. Parents will leave feeling confident that their new bundle of job is being cared in a safe, secure, and clean environment.
Age Group:
6 weeks to 1 year old
Schedule:
6:30am - 6:30pm
Sign up
Toddler
Your child is now a Toddler and beginning to explore and investigate the environment around them. They become more mobile and continue discover new things. Caring teachers will guide your child through their day in a positive and warm environment.
Age Group:
1 to 2 years old
Schedule:
6:30am - 6:30pm
Sign up
Pre - K1
Children in our preschool 1 classroom will continue to develop and explore in their environments. There will be opportunities to enhance social, cognitive, self-help, fine & gross motor, and language skills. There will also be independent growth in an exciting, fun learning atmosphere.
Age Group:
2 to 4 years old
Schedule:
6:30am - 6:30pm
Sign up
Pre - K2
Our Pre-K 2 children are now potty trained and ready for anything! They will be eager to learn new skills, and ready to absorb any and all new knowledge. They are continually challenged and assisted in their thirst for knowledge. Everything will prepare them for Kindergarten.
Age Group:
4 to 6 years old
Schedule:
6:30am - 6:30pm
Sign up